What is Chevy's Teen Driver Mode?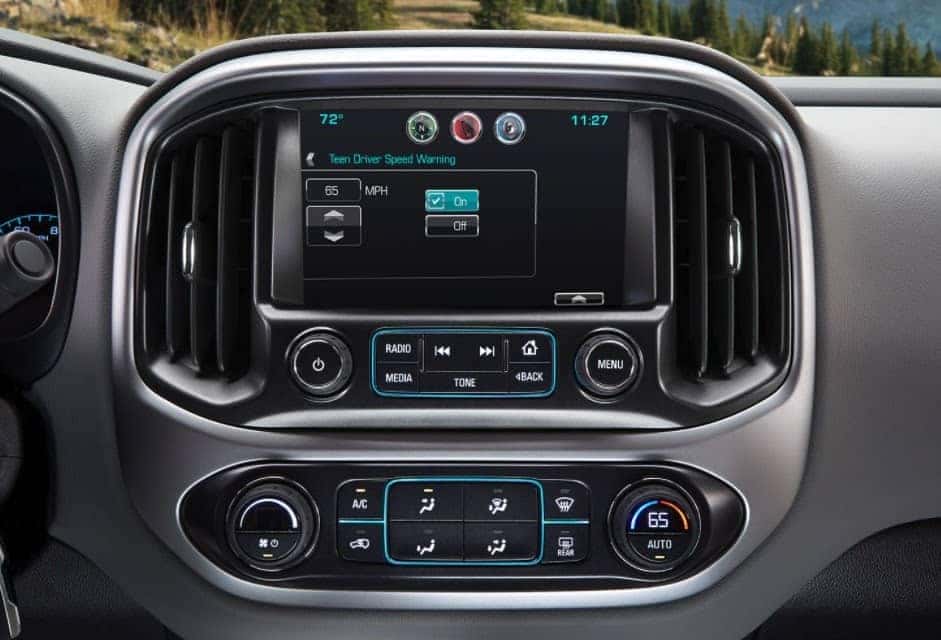 If you're got a parent with a new driver in the house, you know how nerve-wracking having your teen behind the wheel can be, especially when they're to the point where they can start taking drives alone or with friends. Statistically, teens are much more likely to forget to buckle their seatbelt, and to indulge in distracted driving, including potentially-deadly behaviors like texting and driving. Given that, even parents of the most responsible teenagers can find handing over the keys to their child to be an anxious moment. If only there was some way to keep an eye on their driving even when you're not in the passenger's seat…
Like many of us here at Landers Chevy of Norman, a lot of the designers and engineers at Chevrolet are parents too. That's why Chevy introduced Teen Driver Mode to help keep beginning drivers learn better habits while giving parents more peace of mind. The system, which can be activated through a password-protected screen in the in-dash infotainment system, comes standard on most 2020 Chevy models, including Silverado, Tahoe, Equinox, Malibu, Traverse, Bolt, Camaro and more.
Basically, the system allows parents to set limits and warnings through the on-board in-dash touchscreen, reinforcing great driving habits like always buckling their seatbelt, keeping the radio volume low, and obeying the speed limit even when mom and dad aren't around. The system even keeps track of your teen's drive through an innovative "Driving Report Card," so you can coach them on any issues once they return.
Features of Chevy's Teen Driver Technology include:
INDUSTRY-FIRST BUCKLE-TO-DRIVE: With Teen Driver Mode activated, the industry-first Buckle-To-Drive system makes it impossible for the driver to shift out of park for 20 seconds after starting the vehicle if the seatbelts of all passengers aren't buckled, along with your Chevy's in-dash touchscreen issuing audible and visual alerts telling them to buckle up.
SPEED WARNING: From the password-protected Teen Driver Mode screen, parents can set a maximum speed for the vehicle. If the vehicle exceeds that speed while your teen is driving, the vehicle's screens will display audible and visual warnings, and a note will be made in the driving report card for further review.
SPEED LIMITER: When activated, this function of Teen Driver Mode limits the vehicle's speed to a maximum of 85 miles per hour, helping keep teens from engaging in dangerous speeding and foolhardy activities like drag racing on public highways.
AUDIO LIMITER: One of the main distractions for teen drivers is music being played too loud, keeping them from hearing traffic around them and warnings from the vehicle. This function of Teen Driver Mode allows parents to set the maximum volume of the audio system wherever they wish. You can even set it at zero, so your teen won't be tempted to fiddle with the radio while driving.
SEAT BELT AUDIO MUTE: Taking a "carrot and stick" approach to keeping teens safe, the Seat Belt Audio Mute function of Teen Driver Mode automatically mutes the vehicle's audio system until the driver and front passenger are buckled up. Want tunes, kids? Buckle up.
IN-VEHICLE DRIVING "REPORT CARD": Helping your teen develop great habits behind the wheel is your job as a parent, and Teen Driver Mode makes it easy with an in-vehicle report card to review when your beginning driver returns home. The car shows a number of helpful data points, including distance driven, maximum speed, the number of times the vehicle exceeded your pre-set speed limits, potentially dangerous wide-open acceleration and panic-braking events, moments when the traction control was engaged and more.
Innovations to keep our children safer on the road while encouraging great habits like Teen Driver Mode is one more reason why why we're proud to sell quality Chevrolet vehicles here at Landers Chevy of Norman? Got a teen driver in the house and want to know more about how your next vehicle can help you work overtime to keep them safe? Stop in today for a test drive and a demonstration of Teen Driver Mode in a 2020 Chevy from Landers Chevrolet of Norman!