Suburban's Hollywood Walk of Fame Star Moves to Texas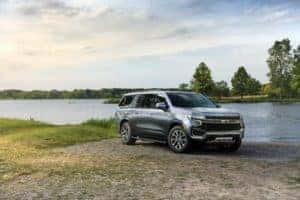 The Chevrolet Suburban is one of the longest vehicle nameplates in American history. This capable and spacious SUV has been the choice for families and hardworking drivers who need ample space for decades. In 2019, the Suburban became the first vehicle to earn an Award of Excellence star from the Hollywood Chamber of Commerce for its iconic role in film and television.
In June 2021, the General Motors Assembly Plant in Arlington, Texas built its 12 millionth vehicle, which just so happened to be a Chevy Suburban. This is the main reason for the Walk of Fame Star to be moved to Arlington, Texas. If you're looking to find the star, it is located in Arlington's Entertainment District, between the ballpark and football stadium.
You might be wondering why a vehicle would earn a Hollywood Walk of Fame Star. The Chevy Suburban actually has a well-touted acting career over the years. Since 1952, the Suburban has appeared in over 1,750 movies and television shows. Back then, the Suburban was debuted on the silver screen for all to see.
Here are some additional fun facts regarding the legendary Chevy Suburban:
The Chevy Suburban has appeared in at least one TV show since 1956 and at least one movie yearly since 1960.
The Suburban has appeared in over 30 award-nominated movies.
On December 5th, 2019, the Suburban was given an Award of Excellence star by the Hollywood Chamber of Commerce, and it's the first vehicle to ever carry this designation.
The Suburban is the longest-running vehicle nameplate in automotive history from its inception in 1935.
Production of the Chevy Suburban has been going strong in Arlington, Texas since 1999.
The Arlington Assembly Plant can produce more than 1,200 Suburbans every day!
If you're looking to get your own slice of American History, come see us at Landers Chevrolet of Norman, Oklahoma to get behind the wheel of a new Suburban today!