Performance Upgrades for your Chevy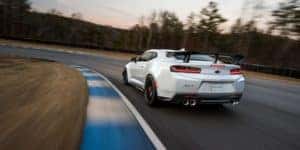 Chevrolet performance lies with the driver, just as much as it does with the components that make up the vehicle. As we know Chevy drivers are reliable and built differently, we at Landers Chevrolet of Norman, Oklahoma thought we could bring up some key features available for Chevy drivers to pick and upgrade their own ride to fit their preferences. It's rewarding to get your hands dirty and fix up your own vehicle. Your Chevy ride will fit your needs, but if you want an enhanced car experience, here are some of your options. 
Unfortunately, you can't slap any old engine under the hood of your Chevrolet. Wouldn't that be a funny sight, a Chevy Trax zooming past a Chevy Corvette? Also, a dangerous one. Engines go with the cars designed to hold them. 
But warning aside, Chevy's Connect & Cruise package comes with an engine control system, an engine, a transmission installation kit, an automatic transmission control system, an automatic torque converter, and either an automatic or manual transmission. This powertrain system combination means your setup is factory-tuned and already customized to fit what you're looking for. Everything is already paired up, so you don't have to look for each individual piece separately.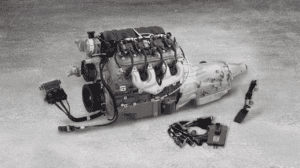 For example, let's say you're competing with your fifth-generation Camaro SS and you've decided you need an LS3 6.2-liter engine. It's a pretty versatile engine. With up to 430 horsepower and 425 lb.-ft. of torque, this reliable engine has a compression ratio of 10.7:1. When this engine is purchased with the Connect & Cruise Crate Powertrain System over just the engine itself, the transmission and other elements are specifically designed to match the LS3 perfectly. The system includes aluminum components and the option between the automatic transmission or a T56 Super Magnum six-speed manual transmission. 
Don't have the time to fix up your vehicle? Let our technicians help you out! Schedule your next service appointment. 
Don't need an entire engine and transmission package? You can easily choose which crate engine, engine component, transmission, or transmission component you need. Looking for a clutch kit to fit your LS engine with an eight-bolt flywheel flange? How about one that's rated for 800 lb.-ft. of torque? Kits will come with additional hardware you'll need for better installation. 
Not sure which part you're looking for? Let our Parts Department help you out! They have plenty of parts on-site and can answer any questions you may have. 
Your style may not match the next person who buys a similar vehicle. You may be more into off-roading, while your vehicle-type buddy may be more into a street style. Both of you can enhance your vehicles to fit your wants and needs. Vehicle upgrades can be as functional as a one-inch front lift. If you choose this for say a 2015 or newer Chevy Colorado, this small detail can increase your off-roading capabilities by upping the front clearance. Choosing a vehicle upgrade can be functional, cosmetic, or a blend of both. 
Hoping for a discount with your parts purchase? Check out the ones we have this month! 
If you're looking for performance that combines both historically strong components and new technology, you should add the Central Office Production Order (COPO) Camaro to your list. As it stands, though the previous sections can be applied to various other Chevys, the COPO system was created just over 50 years ago with the Camaro in mind. The 2022 COPO is a race car that you have to order, and since the demand outways the production, it is not guaranteed you'll receive a custom Camaro COPO. To sweeten the pot, here are your COPO engine options: a 302 cu.-in. LT1-based engine with 360 horsepower, a 427 cu.-in. engine with 470 hp, or a supercharged 350 cu.-in. LSX-based engine with 580 hp. 
We at Landers Chevy of Norman want you to be driving in the vehicle that's just right for you. That perfect ride could be tricked out with one of the components above or a new Camaro waiting for you on the lot. Let us help you find it!