Oddklahoma: Weird, Wonderful Things To See In Oklahoma This Summer! | Landers Chevrolet of Norman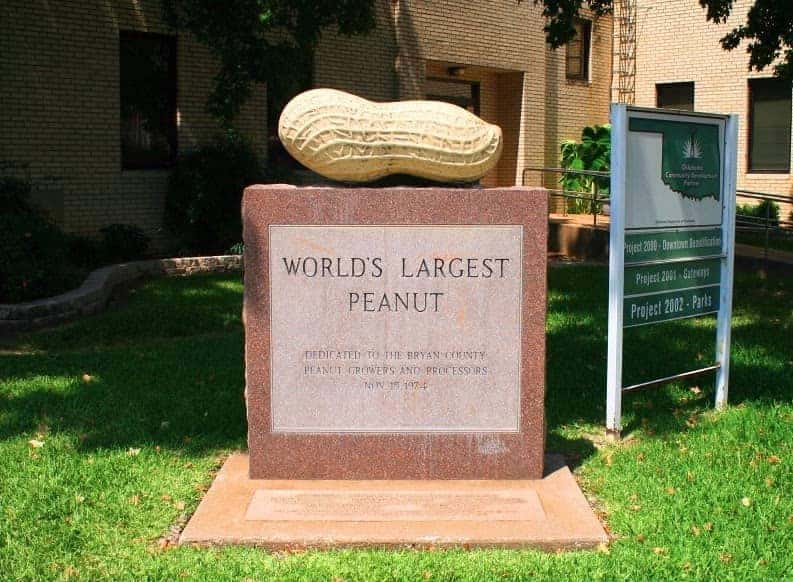 Oklahoma is home to a lot of fabulous things to see and do, but the most pan-shaped state in the Union is also home to a whole lotta ODD! If you're a fan of the old Ripley's Believe It Or Not, you know what we're talking about: those attractions that are so out-there, so strange, so off-the-wall that they just beg to be seen and experienced. We love a good road trip here at Landers Chevy of Norman, but the only thing we love more than a good road trip is a road trip with plenty of fun things to see and do!
Seen below, check out our list of four weird, wild and wonderful places to visit and things to see in Oklahoma. Please note that some of these places may be experiencing closures or different hours due to the COVID-19 epidemic, so if you're planning a trip, please call ahead and make sure they're open. And if you need a great vehicle to get you to the weird in style, check out Landers Chevrolet of Norman's full selection of new and used vehicles at our website right now!
Showman's Rest
Mount Olivet Cemetery
Hugo, Oklahoma
Since all the way back to the Great Depression, one of the places where traveling circus performers spent their downtime in the winter was Hugo, Oklahoma, near the Texas/Oklahoma border. Once known as "Circus Town, USA," Hugo has been the temporary home to thousands of circus performers, and over the years, Hugo's Mount Olivet Cemetery became a permanent resting place for dozens of departed strongmen, trapeze artists and animal trainers. Many of them were buried in a section of the graveyard called Showman's Rest, where performers are still bringing joy through their amazing tombstones. Particularly fun is the life-size figure of celebrated circus ringmaster John Strong, and the tomb of Zefta Loyal, "The Queen of the Bareback Riders." Other tombstones come alive with prancing elephants and tigers. If you're a rodeo fan, be sure to saunter on over to the "Bull Rider's Reprieve" section of Mt. Olivet, which contains the last resting place of many Bull Riding superstars, including Freckles Brown and Lane Frost.
The World's Largest Peanut
300 West Evergreen Street, Durant
When squirrels dream, we're sure that one of the top 10 things they dream about is happening upon a peanut the size of the one that graces the lawn of City Hall in Durant, Oklahoma. Installed in 1974 to honor the peanut-farming industry in Bryan County, the World's Largest Peanut is — sorry to disappoint you if you're imagining munching on a giant peanut — actually made of cast aluminum that has been carefully painted to resemble the dusty shell of a humble, regular-sized peanut. Sitting atop a marker made of red granite that also shelters a time capsule scheduled to be opened in 2023, the World's Largest Peanut is still a point of pride for Durant, and the centerpiece of many a tourist snapshot, even though its claim to being even the world's largest peanut replica is highly dubious at this point. Still, it's a fun road-trip destination to a very friendly town, and once you've been there, you can brag that you had your picture made with a The World's Largest Peanut. Who doesn't like that?
The American Pigeon Museum and Library
2300 NE 63rd St, Oklahoma City
Why yes, in case you are wondering: pigeons are considered the arch-enemy of car dealerships. Only a hailstorm can ruin a good time at a car lot faster than a flock of pigeons sailing over, dropping their stinky bombs on all those shiny new paint jobs. The good news is: there's SOMEBODY in the world who loves pigeons, and you can find them at The American Pigeon Museum and Library in Oklahoma City. Housed in a state-of-the-art museum complex, the American Pigeon Museum will give you a new appreciation for the fine feathered friends slandered by city-dwellers as "rats with wings," discussing the finer points of pigeon lore, the use of homing pigeons to send messages in wartime and more. Even WE might find something to love about pigeons there! Admission is free.
The Center of the Universe
20 E Archer St, Tulsa
Once upon a time, the roadsides of America used to be thick with so called "Mystery Spots," places that claimed to be vortexes, tears in the space-time continuum, places where gravity didn't work as advertised and more. Though most of these Mystery Spots were actually based on easily-explainable illusions or trickery, there's one place in Tulsa that might make you do a double take — or at least a "double listen"! Located near downtown Tulsa, The Center of the Universe is nothing more than a simple circle of concrete, but it's what happens when you step into that circle that is the weird thing. A so-called "acoustic anomaly," whose cause is still being debated, The Center of the Universe is unique in that if you stand in the middle of it and cough, talk, clap your hands or make any other sound, the noise is echoed back to you amplified much louder, as if by magic. Ever weirder, people standing outside the concrete circle often can't hear a noise made inside it at all or else the sound is extremely distorted. We don't know why it happens, but it sure is a weird experience, and well worth the trip to try it.
See? There's a lot of weird out there in this state we love, and these four places are well worth a road trip just to experience them. So get out there and get your Oklahoma Weird on! And if you need a very non-weird vehicle to get your there, stop in today at Landers Chevrolet of Norman, or check out our full selection of beautiful new Chevy models, plus our great selection of pre-owned vehicles, at our website right now.