Four Names Behind Famous OU Campus Buildings and Facilities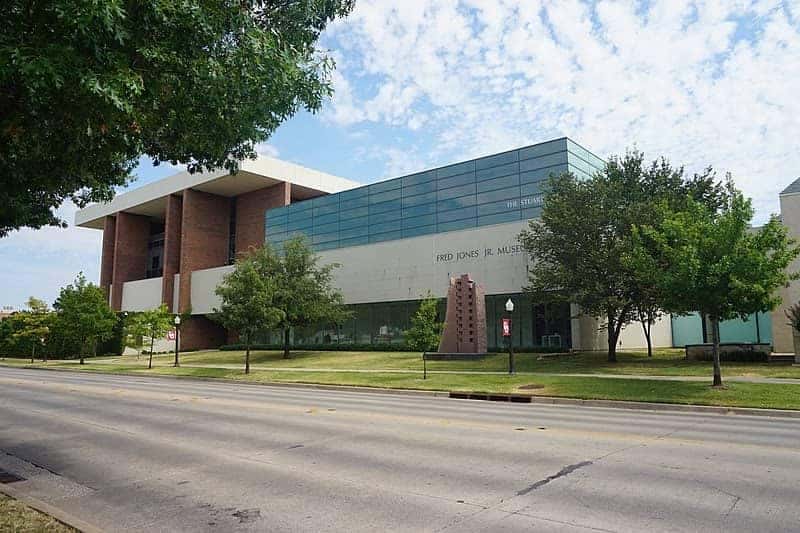 We love our Oklahoma Sooners here in Norman! Between sporting events, exhibits, or taking our own future Sooners to tour the university, we wind up on the OU Campus quite a bit, and never fail to marvel at all the beautiful architecture on display. If you've been on campus at OU over the years, you've probably done the same, and you've probably wondered about some of the people the buildings and facilities at OU are named for. We wanted to get to the bottom of it, so we did a little digging. Seen below, check out the stories behind four names you might see on facilities and buildings if you visit the OU campus! So much history! And if you need a great new or used car, truck, van or SUV in Norman, come see us today at Landers CDJR of Norman, where the only thing stronger than our commitment to the Sooners is our commitment to getting you the best deal for your money, hands down.
L. DALE MITCHELL BASEBALL PARK: The home of the Oklahoma Sooners Baseball Team, L. Dale Mitchell Baseball Park is named for Loren Dale Mitchell, a standout Sooner who went on to a great, 11-year career in Major League Baseball. Born in Colony, Oklahoma in 1921, left-hander Mitchell played for OU between 1942-46 and was a phenom from pretty much the moment he picked up a glove for the Sooners, swatting a college-career batting average of .467 and averaging an incredible.507 in his senior season! Both are still Sooner Baseball records. After college, Mitchell made his debut with the Cleveland Indians in 1946, and went on to hit .300 or better in six of seven seasons after his rookie year, leading the Indians to their win in the 1948 World Series. Mitchell led the American League in hits, singles and triples in 1949, the same year he became the first former Sooner to make the All-Star Team, and struck out less than a dozen times in over 600 at-bats. He later played for the Brooklyn Dodgers starting in 1956, and passed away in Tulsa in 1987.
FRED JONES, JR. MUSEUM OF ART: As with several of the buildings on campus at OU, the name of the Fred Jones Jr. Museum of Art has its origins in a family trying to make something positive from a tragedy. Originally established as a collection of art amassed by OU School of Art Oscar B. Jacobson in the 1920s, the art collection expanded dramatically throughout the 20th century, acquiring works by many significant painters. The museum gained its name in 1971 when Mr. and Mrs. Fred Jones of Oklahoma City donated funds for the construction of a new facility in memory of their son, Fred Jones Jr., a young art-lover who tragically died in a plane crash during his senior year at OU. Since then, the museum's collections and facilities have grown into one of the finest art museums in the nation, including a substantial collection of works by Native-American artists, along with significant works by Guguin, Renoir, Van Gogh, Toulous Lautrec, Degas, Gaugan and others.
BIZZELL MEMORIAL LIBRARY: One of the most well-known and most-used buildings on campus is the imposing, five-story Bizzell Memorial Library. One of the few examples of Cherokee Gothic architecture, the library opened in 1928, replacing the original library that had been destroyed in a fire in 1903 and another replacement library which the campus quickly outgrew. So who is Bizzell Memorial Library named for? That would be OU's fifth president, William Bennett Bizzell, who was still in office when the library opened. Today, Bizzell Library is the foremost research library in the state of Oklahoma, and the hub around which the OU System's eight libraries operate, with over 5 million volumes. In addition to the books any student or professor can check out Bizzell Library holds a number of important rare and scholarly collections, including collections dedicated to the History of Science, The Nichols Rare Books Collection, The Bass Business Collection and The Bizzell Bible Special Collection.
GAYLORD HALL: Though the Internet has made big changes to newspapers and the family fortunes of those who own them, there was once a time in America when Newspaper Tycoons accumulated vast fortunes, earned one column inch, one story and.10 cent newspaper at a time. OU's Gaylord Hall is named for one of those plucky few who turned ink and paper into an empire: Edward King Gaylord, who helped turn Oklahoma City's Daily Oklahoman into a journalism powerhouse. Born in Kansas in 1873, Gaylord became the paper's business manager in 1903. From there, Gaylord helped build the Oklahoman into the statewide paper of record before branching out to open the state's first commercially-successful radio station: WKY. Later, Gaylord rode the changing times to fortune again by opening the state's first television station, WKY-TV. Though Gaylord died in 1974, his contributions to the state live on, including Gaylord Hall. Built in two phases, with Phase 1 opened in 2005 and Phase 2 opened in 2009, Gaylord Hall is, fittingly, the home of OU's College of Journalism, helping shape young reporters for a digital age and a style of journalism that Edward King Gaylord probably couldn't even have imagined.