Five things we love about the all-new 2021 Chevy Tahoe!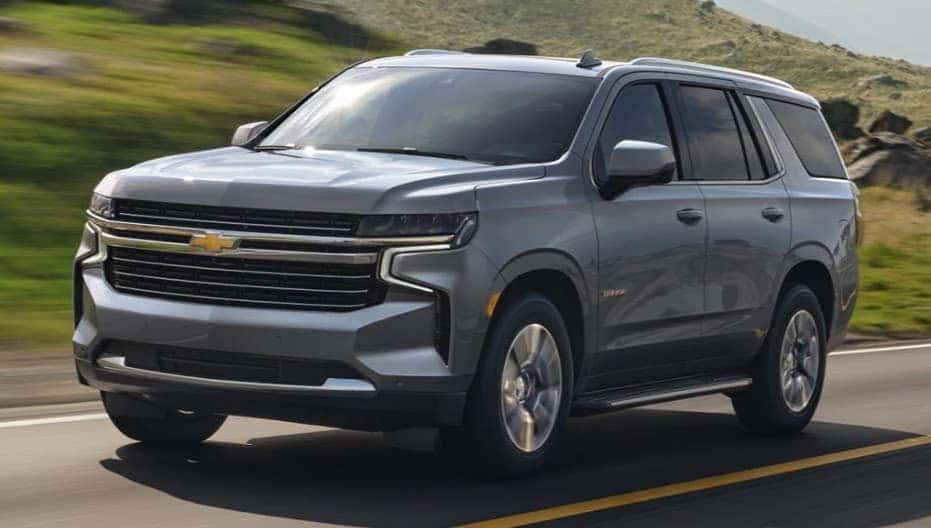 After long months of waiting, the incredible 2021 Chevy Tahoe is finally here at Landers Chevrolet of Norman. We were the first Chevy dealership in the whole state of Oklahoma to receive a shipment of the next-generation '21 Tahoe, and we're telling you: this is the most beautiful, most capable, most comfortable and connected Tahoe EVER!
CLICK HERE TO SHOP OUR SELECTION OF 2021 CHEVY TAHOE MODELS
We've had a few weeks to check out the 2021 Tahoe now, and every time we open the door, climb inside or slip behind the wheel, we find something new to love about Chevy's incredible full-size SUV. Seen below, check out five of our favorite things about the 2021 Chevy Tahoe. And when you're ready to see how the '21 Tahoe can change the game for you and your family, stop in today at Landers Chevy of Norman for a test drive. Ready to buy a 2021 Chevy Tahoe in Norman? Check out our full selection of beautiful 2021 Tahoe models at our website right now.
ALL THAT STYLE: While there's plenty to love about the confident looks of the 2020 Chevy Tahoe, it's always exciting when the Bowtie Brand rolls out the latest model of a new favorite. Picking up the grille and front fascia styling that made the latest generation of Chevy Silverado 1500 trucks the most beautiful pickups on the road, the 2021 Chevy Tahoe takes that sleek and modern style and runs with it, creating a Tahoe that's bigger, bolder and more confident than ever before. It's a bumper-to-bumper beauty that we can't stop admiring.
CLASS-LEADING INTERIOR ROOM: While Chevy Tahoe has always been known for cargo room, the 2021 Tahoe is a quantum leap in that regard, taking advantage of new frame and rear-suspension architecture to maximize interior cargo room. The result is an incredible SIXTY-SIX PERCENT more cargo room behind the third-row seats, and ten additional inches of legroom for third row passengers. That's room that you and your passengers will be able to put to good use on long-haul trips.
THE BEST-RIDING TAHOE EVER: Chevy Tahoe is synonymous with luxurious comfort, and a big part of that over the years has been making sure it rides like a great SUV should. Chevy's never-ending pursuit of the most comfortable ride reaches a new benchmark in the 2021 Tahoe, which features a new, fully-independent rear suspension that's the most advanced in the segment. Want an even more comfortable ride? Then step up to the available, first-in-segment Air Ride Adaptive Suspension, which automatically levels the load when weighted down with passengers, cargo or a trailer.
A RANGE OF EXCITING ENGINE OPTIONS: Full-size SUV owners want full size power for hauling, towing or getting away from the stoplight a little quicker than the rest of the pack, and the 2020 Chevy Tahoe delivers with a range of advanced engine options that offer something for every need or driving style. Planning on doing a lot of towing, or just want to have some fun when you put the hammer down? Then you need the available 6.2-liter V8, with best-in-class 420 horsepower. Efficiency and incredible low-end torque more your speed? Then a diesel is your deal, and the 2020 Tahoe has one for the first time ever: the available 3.0-liter Duramax inline six-cylinder turbodiesel.
A LEGENDARY COMMITMENT TO SAFETY: Tahoe is, first and foremost, a family vehicle, meant to haul 'em all to good times in style. But getting you there is nothing if you can't get there in safety. With that in mind, Chevy built their safest SUV ever in the '21 Tahoe. The latest model features over 30 safety and driver-assistance technologies to keep you and your family safe no matter what you get up to or what comes your way. That includes a restraint system with inboard seat-mounted side-impact airbags, an HD rear-view camera, Automatic Emergency Braking, Forward Collision Alert, Following Distance Indicator, Front Pedestrian Braking, Rear Parking Assist, Trailering Hitch Guidance and much, much more.
We don't have the room or the time to tell you all the ways the 2021 Chevy Tahoe is going to raise the bar for you. Thinking you might buy a 2021 Chevy Tahoe in Norman, Moore or Oklahoma City, Oklahoma? Then the best thing to do is come find your own five favorite things about the '21 Tahoe with a test drive at Landers Chevy of Norman! Come see us today, or check out our full selection online right now.