Buy a 2021 Chevy Silverado in Norman, Oklahoma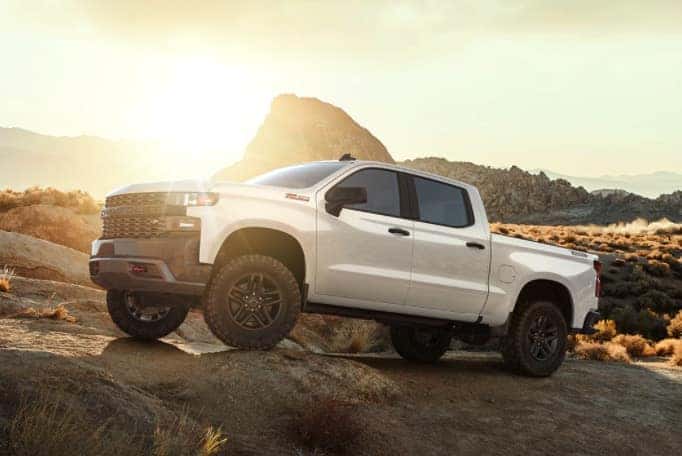 When there's hard work to do, who do you want to help you get the job done? Someone strong. Someone dependable. Someone who won't quit until the job is done. Friends like that are very precious, so if you're looking for a four-wheeled pal to help you get more done at work or play, depend on the strong, dependable, never-quit power of the 2021 Chevy Silverado 1500. Tougher, more powerful and more technologically advanced than any truck in Chevrolet history, the 2021 Chevy Silverado is here to make every drive a joyride and every job easier. Thinking you might buy a 2021 Chevy Silverado in Norman, Moore or Oklahoma City, Oklahoma? Then come see us at Landers Chevrolet of Norman, where we have the 2021 Chevrolet Silverado in stock and ready to help you make a stunning first impression while getting the job done. Stop in soon for a test drive, or check out our full stock of reliable, dependable 2021 Chevy Silverado 1500 models at our website right now.
CLICK HERE TO SHOP OUR SELECTION OF 2021 CHEVY SILVERADO MODELS
STRENGTH WHERE IT COUNTS: When we say the 2021 Chevy Silverado 1500 is just tougher than the other trucks in its class, we're not exaggerating. That starts with a body made of cold-rolled American steel — not a flimsy aluminum body like Brand F — for the utmost in dent and collision protection. The 2021 Silverado's body is mounted atop a full-length, fully-boxed frame that's also high-strength carbon steel, with welded crossmembers to help prevent twist and flex that can rattle a truck apart in extreme conditions. Putting the power in this power play is your choice of five advanced engines, including the 420-horsepower 6.2-liter V8, and the new 3.0-liter Duramax Turbo Diesel inline six, with a stunning 460 lb.-ft. of torque while simultaneously delivering 33 mile-per-gallon fuel economy on the highway. It all adds up to a truck that's just better than the competition at getting the job done, including 2,280 pounds of maximum payload capacity, and up to 13,300 pounds of maximum trailering muscle. And it doesn't hurt that the 2021 Silverado 1500 just outclasses them all in the looks department, too.
THE TECH TO DO MORE: Though there was a time not so long ago when the most "technology" you could expect from a hard-working Chevy truck was an AM radio on electric signals so you didn't have to put your arm out the window every time you needed to turn. Today's truck owners demand a helping hand from the latest technology, and the 2021 Chevy Silverado 1500 delivers with more useful, work-ready tech than ever before. For trailering, that includes a record 15 available camera views that can be instantly accessed through the center-dash touchscreen, with features like colorful guidelines to help you hitch up and get a move on, even when you don't have a spotter. Also giving you a big leg up on the technology front is Chevy's segment-first myChevrolet Mobile App, with trailering tech that includes pre-departure checklists, how-to videos, tips and tricks, and even the ability to test the functionality of your trailer's brake lights, turn signals and emergency flashers from the back of the trailer, just by hitting simple buttons on your phone.
A LEGEND OFF-ROAD: Since the 1950s, Chevrolet 4×4 trucks have been helping America get to work and play the old-fashioned way: unstoppable performance, rugged engineering, and a commitment to building the trucks that will carry you through no matter what Mother Nature throws your way. People love a big ol' truck, and none looks better or performs better off-road than a 2021 Chevy Silverado 4×4. While 4×4 running gear is available on all seven Silverado trims, for the perfect blend of attitude, style and aggressive power in an affordable package, check out the custom 4×4 you can buy right off the lot: the 2021 Silverado Custom Trail Boss. Featuring unique details, a two-inch factory lift, and 18-inch black-painted alloy wheels with Goodyear Wrangler Dura-Trac mud tires, the Silverado Custom Trail Boss is more than a looker too, thanks to features like the legendary Z71 off-road package, featuring an automatic locking rear differential and tough underbody skidplates to protect vital components.
There's lesser trucks, and then there's the new 2021 Chevy Silverado 1500, the toughest, smartest, hardest-working Chevy truck in history. Want to buy a 2021 Chevy Silverado in Norman, Oklahoma? Then come see us today for a test drive at Landers Chevrolet of Norman, or check out our full selection of 2021 Chevy Silverado 1500 models at our website right now.
CLICK HERE TO CONTACT OUR DEALERSHIP