Buy a 2021 Chevy Silverado 2500HD in Norman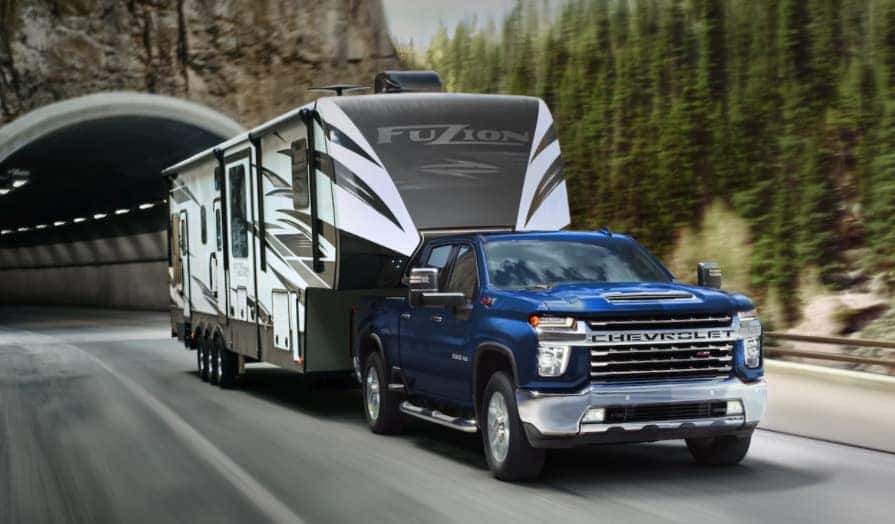 Looking for the truck that can take you from your toughest day of hauling to date night with just a run through the carwash? Then skip the rest and buy the best: the 2021 Chevy Silverado 2500HD. For those jobs where even the incredible 2021 Chevy SIlverado 1500 can't cut it, the Silverado 2500HD is there, with available turbodiesel V8 power, available maximum towing of an amazing 36,000 pounds, and a starting price of just $34,700. Are you thinking about buying a 2021 Chevy Silverado 2500HD in Norman, Moore or Oklahoma City, Oklahoma? Then come see us today at Landers Chevy of Norman for a powerful test drive, or check out our full selection of 2021 Chevy Silverado 2500HD models online right now.
CLICK HERE TO SHOP OUR SELECTION OF 2021 CHEVY SILVERADO 2500HD TRUCKS
NO JOB TOO BIG: There's a reason why owners of Chevy Silverado Heavy Duty trucks keep coming back for another Silverado HD year after year and mile after mile, with J.D. Power ranking the Silverado 2500HD is the highest ranked heavy-duty pickup in both initial and long-term quality. That's not just us talking; that's real-life surveys of the owners of drive the Silverado 2500HD. One look at any part of the 2021 Chevy SIlverado 2500HD will show you why. From grille to tailgate, tires to amber lights on top of the cab, the 2021 Chevy Silverado is just built tougher than the rest. That includes the strongest frame ever made for a Chevy truck, a backbone of high-strength American steel with welded crossmembers for the utmost in flex and twist resistance, and a factory gooseneck-prep package that makes the 2021 Chevy 2500HD ready to take on your toughest towing jobs from the moment you hit the key.
STRONG ENOUGH TO TAKE YOUR TOUGHEST DAY IN STRIDE: While other heavy duty truck manufacturers are willing to fudge the numbers, the 2021 Chevy Silverado 2500HD wears its strength and incredible capability loud and proud. Standard power is the new 6.6-liter gasoline V8, delivering 401 horsepower and 464 lb.-ft. of tow-ready torque. Backed by an advanced six-speed automatic, the gasoline engine is good for up to 17,370 pounds of towing muscle which is more than enough for most. If you have even bigger loads to tow on a regular basis, however, Chevy has a solution for that too: the legendary 6.6-liter Duramax Turbo-Diesel V8. The latest generation of the storied Duramax engine line, the 6.6-liter Duramax delivers unfailing reliability, award-winning fuel economy, plus 445 horsepower and a whopping 910 lb.-ft. of torque. Backed by the industrial-strength Allison 10-speed automatic for butter smooth shifts even with tons of equipment hitched on, the available 6.6-liter Duramax turbo-diesel allows the 2021 Chevy Silverado 2500HD best-in-class towing of up to 36,000 pounds.
SAFETY FEATURES YOU CAN DEPEND ON: Whether you're towing a gooseneck camper or hauling heavy equipment to the jobsite, heavy-duty trailering or hauling can be among the most dangerous jobs you will ever do. Chevrolet knows that, while is why every 2021 Chevy Silverado 2500 truck features both the old-school-tough engineering and the cutting-edge safety and driver-assistance features you need to see you safely back home again, no matter what challenges the day brings. Trailering veterans know that in a crosswind or on a busy interstate, trailer sway can escalate into an uncontrolled situation in moments, sometimes resulting in catastrophe. That's why the every 2021 Silverado 2500 features StabiliTrak Electronic Stability Control with Trailer Sway Control. Constantly monitoring your tow, If the system detects a developing trailer sway situation, it reacts in milliseconds to mitigate it, sending power and braking impulses to individual wheels to help you stay in control and sunny side up. It's just one of the dozens of ways Chevy's commitment to safety helps keep you and your Silverado 2500HD moving in the right direction.
When you're tired of the also-rans and "heavy duty" trucks that can't cut the mustard, it's time to step up to the best: the 2021 Chevy Silverado 2500HD. Built tougher to do more and last longer, the 2021 Chevy Silverado 2500HD is the truck you need for the work you do. Ready to buy a 2021 Chevy Silverado 2500 HD in Norman, Moore or Oklahoma CIty? Then stop in today for a test drive at Landers Chevrolet of Norman, or check out our full selection of 2021 Chevy Silverado 2500HD models at our website right now.