2021 Chevy Blazer in Norman, Oklahoma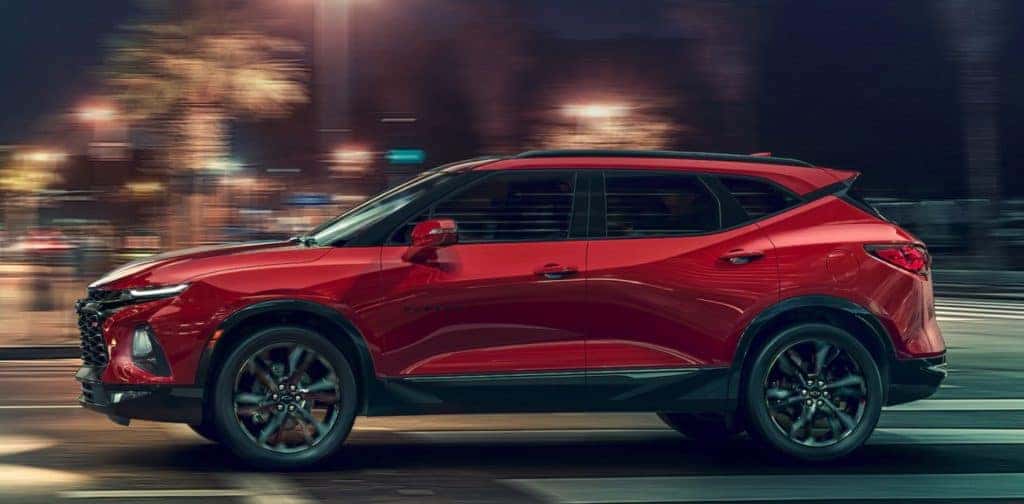 Is there anything worse than leaving work at the end of a long day and trudging to an SUV so bland and boring that it can get lost in any parking lot. If you're one of those who wonders: "what happened to driving being fun?" might we suggest the 2021 Chevy Blazer. Athletically styled, with bold character lines and an interior that looks like somewhere you'd actually WANT to be, the 2021 Chevy Blazer is the SUV that's really going places, and you can come along for the ride. Think you might buy a 2021 Chevy Blazer in Norman, Oklahoma? Then come see us today at Landers Chevrolet of Norman, where we have the 2021 Blazer in stock and ready to rock the foundations of the way you see an SUV! Or you can shop our full selection of Chevy Blazer models online right now.
CLICK HERE TO SHOP OUR SELECTION OF CHEVY BLAZER MODELS
MAKE A POWER MOVE: Happiness is life is so often about finding the perfect blend of style and substance, visual appeal and practicality. With the 2021 Chevy Blazer, Chevrolet has created an SUV that makes power moves wherever it goes. Starting at just $28,800, the 2021 Blazer is the ultimate "have it your way" midsize SUV thanks to your choice of three powerful and reliable engines. Standard power is delivered by the economical 2.5-liter Ecotec four-cylinder, delivering a robust 193 horsepower and 188 lb.-ft. of torque. For a little more oomph and some serious fuel economy, step up to the available 2.0-liter turbo four, with 227 horsepower and an EPA-estimated 29 miles per gallon on the highway. For the most bang for your buck, go with the optional 3.6-liter V6, with 308 horsepower, 27 MPG highway, and maximum towing of up to 4,500 pounds. Pair it with the 2021 Blazer's available all-wheel drive with Driver Mode Selector, and you've got an SUV that can wake you up in ways that are a lot more fun than drinking another cup of coffee.
AND LOOK GREAT DOING IT: Chevy wasn't content to just build another forgettable, jellybean shaped SUV when they set out to design the 2021 Chevy Blazer. From front to back, top to bottom, inside and out, the 2021 Chevy Blazer looks the part of a beautiful, practical, adventure-ready SUV. Out front, the 2021 Blazer features front fascia styling that bears more than a family resemblance to the 2021 Chevy Camaro, including a full width bar that connects the aggressively-canted high-output headlights, and a fluid, chrome-accented grille insert. Seen in profile, the 2021 Blazer is poetry in motion, with wide windows to let the light in and a cantilever-look rear roof design that helps the 2021 Chevrolet Blazer achieve near perfect proportions without looking bulky or top heavy like other midsize SUVS. Inside, there's seating for five, plus a multitude of clever details and technologies to help make every journey a joy. Need to haul? Thanks to the 2021 Blazer's fold-flat seating, the 2021 Chevy Blazer can haul up to 64.2 cubic feet of cargo!
TRIMS AND SPECIAL EDITIONS TO MAKE YOUR BLAZER YOUR OWN: In a world full of SUV sameness, the purchase of the 2021 Chevy Blazer shows your style and independent streak. When it comes to style, no smaller SUV is more flexible than the 2021 Chevy Blazer. Love the outdoors? Blazer can take you there and bring your toys along, with features like available all-wheel drive and maximum available towing of up to 4,500 pounds, putting a small boat, camper, watercraft or trailered ATV within reach. Love to seize the night? Then the Blazer Midnight/Sport edition might be for you, with blackout trim, 18-inch gloss black alloy wheels, and black emblems for a sleek and stealthy look. More about a modern, performance-oriented look? Then check out the 2021 Blazer Redline Edition, with details and accents meant to convey a modern, streetwise attitude. With six available trims, from base-model Blazer L to the luxurious Blazer Premier, there's a 2021 Chevy Blazer that's perfect for you.
Heard enough to know you might want to buy a 2021 Chevy Blazer in Norman, Moore or Oklahoma City, Oklahoma? Then stop in today at Landers Chevy of Norman for an exhilarating test-drive behind the wheel of the 2021 Blazer, or shop our full selection of Chevy Blazer models online right now! We look forward to making you smile, at Landers Chevy of Norman.